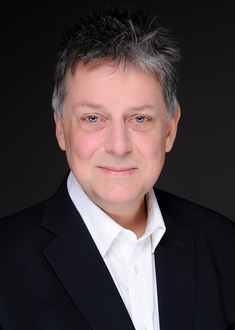 Jonathan Rathbone
Jonathan was a chorister at Coventry Cathedral and, later, a choral scholar at Christ's College Cambridge, where he read mathematics. He gained a second degree at the Royal Academy of Music where he studied composition with John Gardner.
He sang with St Bride's Choir, Fleet Street and the BBC Singers before joining the Swingle Singers in 1984. He was musical director of the group for eight of the twelve years he sang with them, during which time he created the majority of their arrangements, both a cappella and with orchestra. He has worked with many of the world's leading musicians including Pierre Boulez, Luciano Berio, John Dankworth, Stephan Grappelli, Beatles producer, George Martin and French pop star, Etienne Daho.
He has orchestrated for Sir Cliff Richard and Michael Ball and more recently for Katherine Jenkins, Lesley Garrett and Wynne Evans ("Go Compare!"). He is now an in-house composer with Peters Edition. He conducts two choirs in north London, for whom he has written numerous pieces.
In addition to his choral writing, Jonathan's string quartet, "More Fools than Wise", written for the Fitzwilliam Quartet, has been performed all over the world.
Jonathan is on the board of Europa Cantat's Music Commission.
Jonathan has been the musical editor of the Requiem and has orchestrated the work. His considerable contribution to the production and completion of this work is gratefully acknowledged